Stemtech Rewards and Bonus Plan
Bringing Hope for a Better Future
At Stemtech, we do not sell our products in stores. Instead, we pay Independent Business Partners —people just like you— to help share our products and income opportunity with others. Our global Business Partner team includes people from all walks of life: students, doctors, retirees, and at-home parents alike enjoy the benefits of the Stemtech opportunity.
TeamBuilder Program
Rewarding You for Developing New Business
A one-time TeamBuilder Bonus is available each time you enroll a new Business Partner who purchases a TeamBuilder Pack. This program pays generous upfront Enroller, TeamBuilder, Turbo TeamBuilder and 50% Matching bonuses when you are enrolling, training, and helping others succeed.
TeamBuilder bonuses are paid weekly providing you elect direct deposit lodging straight into your nominated bank account, which can be set up in your personal website Back Office. Qualification requirement: Purchase a TeamBuilder Pack and have a minimum of 50 AutoShip PPV (minimum of one bottle) to remain active and qualify for TeamBuilder Bonuses (Personal VIP Customer AutoShips count towards this qualifier).
TeamBuilder Pack
Most popular way to become a TeamBuilder!
This pack has great value and great bonus potential.
TeamBuilder Bonus Payouts:
Up to $280 in TeamBuilder Pack bonuses are paid out with each $526.90 TeamBuilder Pack enrollment.
$70 to qualified Enroller
$112 TeamBuilder bonus to qualified Business Partners or
$140 to qualified Turbo TeamBuilder bonus
$56 or $70 to qualified 50% Matching bonus
If the Enroller also earns the TeamBuilder Bonus, the Enroller receives $70 Enroller Bonus and the $112/$140 TeamBuilder for a total of up to $210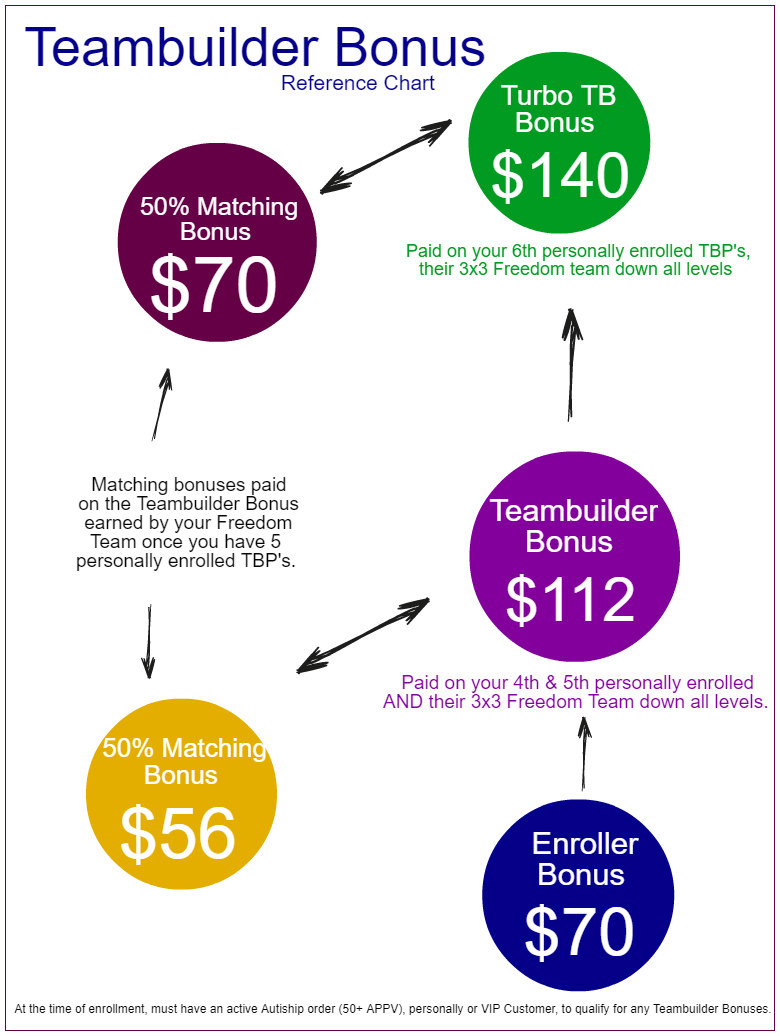 ---
Prosperity Bonus Program
Rewarding You for Residual Business
The Prosperity Bonus Program pays out a full 7% on ALL Business Partners orders seven levels deep, PLUS 1-2-3% Infinity Bonus if qualified. The Program pays on the first 100 BV of all orders per Independent Business Partner or Retail Customer per month (excluding VIP Customers).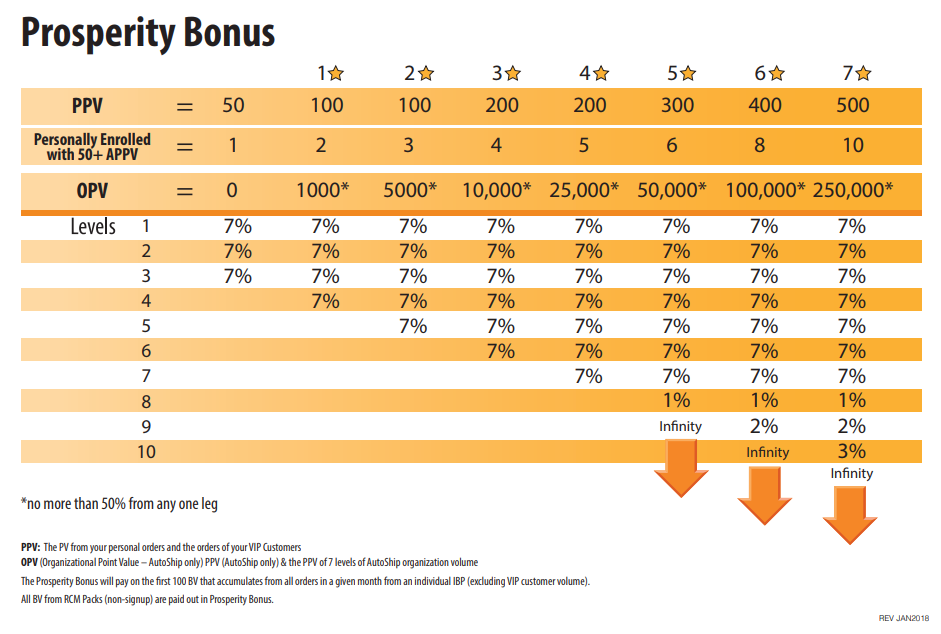 The number of "levels" of AutoShip orders on which you earn commission each month is determined by:
APPV (AutoShip Personal Point Value): The PV from your personal AutoShip orders and the AutoShip orders of your VIP Customers. OPV (Organisational Point Value - AutoShip only) PPV (AutoShip Only) & the PPV of 7 levels of AutoShip organisation volume. The Prosperity Bonus is paid on the first 100 BV, from each IBP, of all order types from Independent Business Partners in your downline. Note: Prosperity Bonus Program PV for a single bottle of StemRelease3™ is 50 PV, BV = 60.00 Note: All orders for the month, AutoShip and non-AutoShip combined, the first 100 BV only, is paid through the Prosperity Bonus. (*VIP customer orders are not part of this plan).
---
Lifestyle Leadership Bonus Program
The Lifestyle Leadership Bonus Program pays 3-10% on ALL orders with BV over 100. As your group grows, you can earn generational bonuses of 3%-10% to six generations. Lifestyle Infinity Bonuses are up to 1-2-3%, on all generations of your group starting on the 7th generation.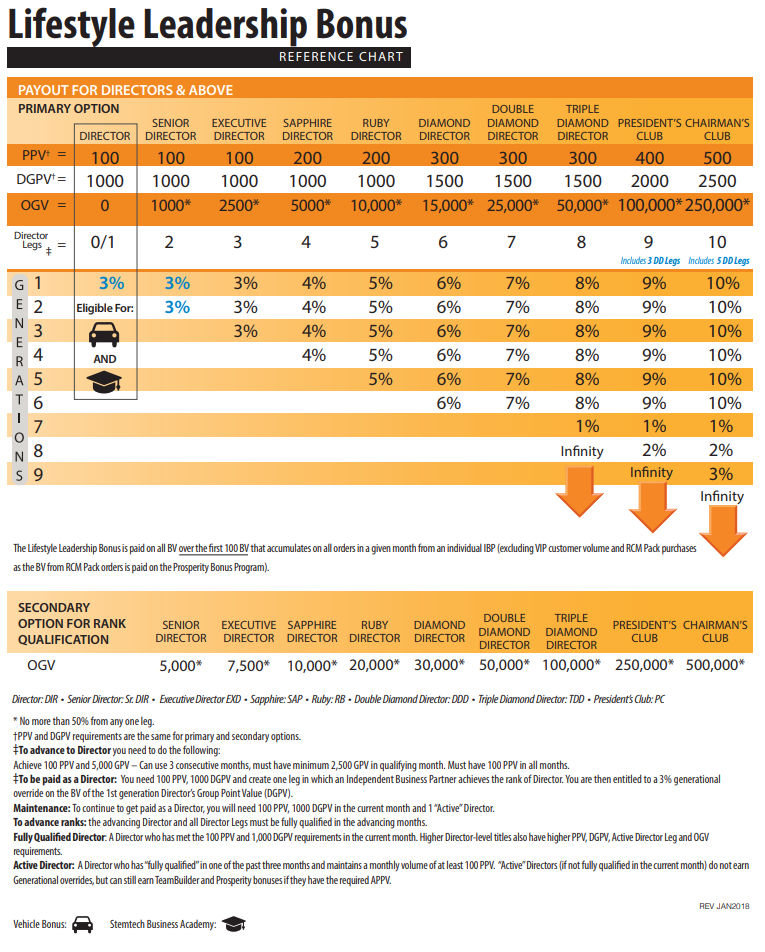 ---
Vehicle Bonus Program
Want to drive a vehicle paid for by Stemtech? Qualifying for Stemtech's Vehicle Bonus Program is easier than ever before! Everything depends on you QUALIFYING as a DIRECTOR (or above) who builds with AutoShip. Both Independent Business Partners AND VIP Customers on AutoShip count toward your qualification. As the chart below shows, your monthly vehicle bonus increases as the number of your personally-enrolled AutoShips and the total number of AutoShips on your first three levels increase, along with your AutoShip PV: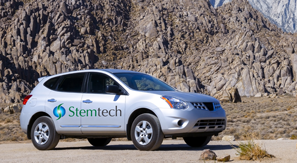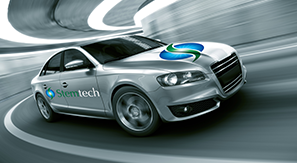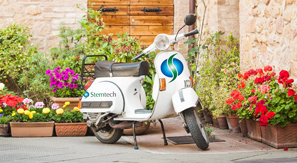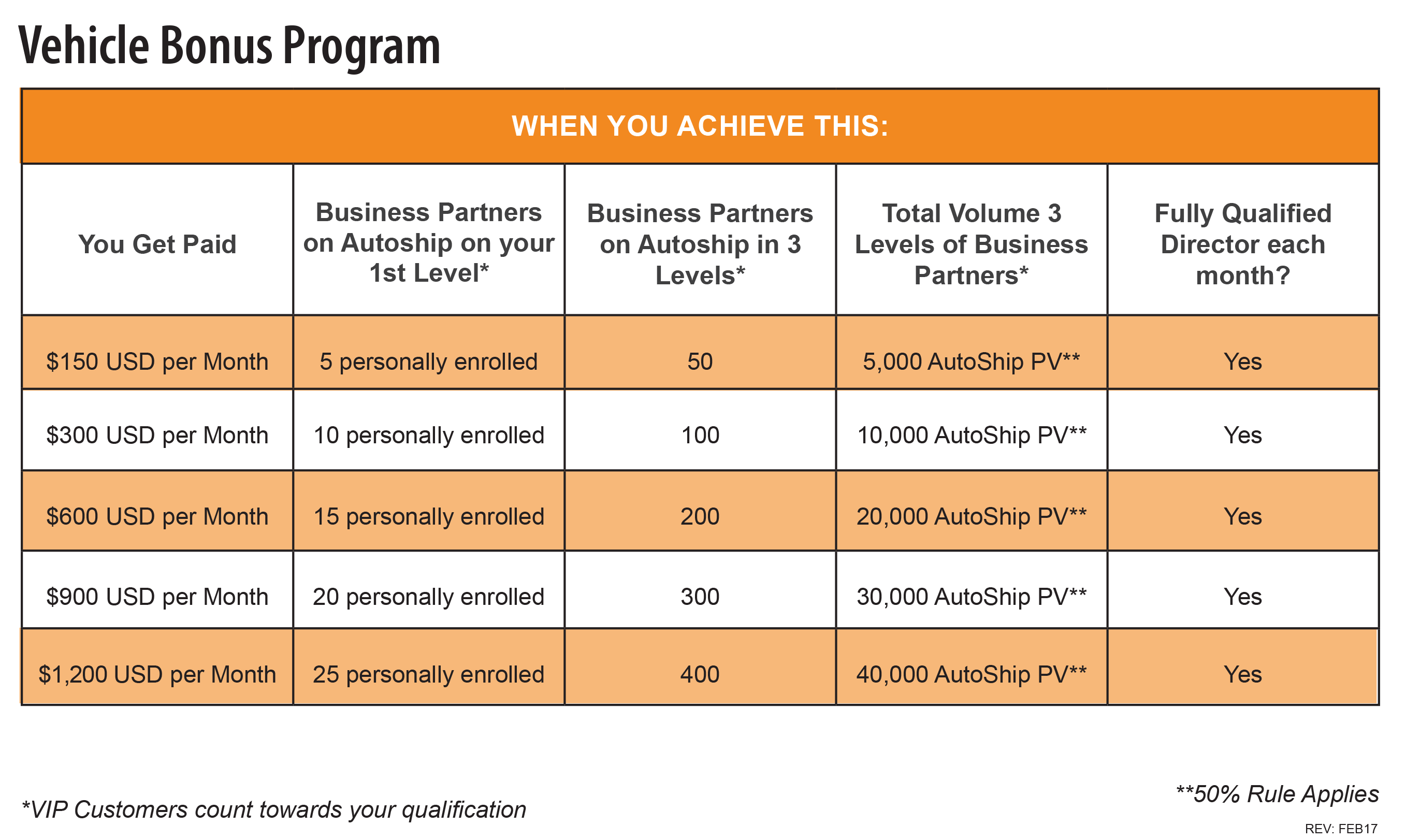 *VIP Customers count toward your qualification
**50% Rule Applies
Once you meet these qualifications for three consecutive months, your Vehicle Bonus begins in the fourth month. You can shop in January for a vehicle that can be in your driveway by April… but you need to start building your team NOW!
Additional Rules:
Partners that are fully qualified Directors or above are eligible for the Vehicle Bonus Program if released in your country.
For the purposes of qualification and maintenance you may use both personally enrolled Partners AND VIP Customers on AutoShip.
The bonus is paid monthly.
A Partner may qualify to receive only one Tier at a time.
A Partner must meet the qualification requirements for a given Tier for 3 consecutive months before earning the bonus. The bonus starts paying in the 4th month.
A Partner may purchase/lease the vehicle upon completion of the initial 3rd month of qualification. The purchase/lease agreements must be in the Partner's name(s), and a copy of the lease agreement sent to the local Partner Services Team.
50% of bonus achieved will be awarded in commissions, if the Partner elects NOT to purchase a vehicle.
Partners may purchase a new vehicle of your choice or a second hand vehicle, after submission of preferred vehicle to Stemtech is approved.
When the vehicle is purchased it MUST have a corporate branding/ wrap/ decals fitted at all times and be made available for photo shoots for corporate publications as required.
A Grace Month is used when a Partner misses the AutoShip requirements on Levels 1-3 but the AutoShips on 1st level and PV requirements have been met.
A Partner may use one Grace Month within a 12 consecutive-month period. During the Grace Month, the Partner will be paid at the same Tier for which he/she has been qualified for.
If a Grace Month is not available then the Partner is paid at the lower Tier for which he/she is qualified.
If the Grace Month has been used and the Partner fails to meet the requirements again within 12 months, the Partner will have to re-qualify for that Tier to get the bonus paid (at that Tier) to them again.
---
VIP Customer Program